Tigers in the Park Now Available in the UK
Caliver Books have just received the first batch of the new UK version of 'Tigers in the Park' – the book can ordered at https://caliverbooks.com/
This book is linked to the Virtual Museum by QR codes but I believe most readers prefer to have the museum open as they peruse the pages. However way you chose I hope the book and the website provide a comprehensive review of this fascinating story.
Near the end of TAPP, we were asked by the Singapore government to submit a proposal for the surveying of Hill 160 – Suffolk Hill – better known as Bukit Brown before they built the bypass.  The objective of the survey was to identify the location of missing Suffolk men – those who had been reported buried on the hill but have no grave in Kranji. The survey was only half completed before we were asked to stop and the missing men remain missing. I have added the documents that were raised in support of this work into the Virtual Library. I hope you find them of interest.
As you may know , publishing Tigers in the Park on a 'print on demand' basis and exporting to the UK is very expensive, As an alternative we have digitized the book and its available on quite a few sites worldwide including Word Images. https://www.wordimagesg.com/product-page/tigers-in-the-park-1 However there is nothing like having the real book on your lap to flick through while exploring the Virtual Museum at the same time so we are now looking for a publisher in the UK… preferably in Cambridgeshire… to reprint the book and distribute locally. If you are interested in taking up this role or know a publisher who could help please drop me a line on the Adam Park Facebook page https://www.facebook.com/AdamParkProject/ We will keep you informed of progress
A note to mention that its Jack Jenning's 103rd birthday tomorrow. Jack served with 1st Battalion Cambridgeshire Regiment and fought at Adam Park. He was captured in the trenches at the front of 18 Adam Park.
Jacks not in great health these days but he can still bang out a tune on the harmonica ! Thinking of you Jack on your birthday. All the best my friend.
Tigers in the Park is only available on a print on demand basis in hardcopy through Word Image Pte Ltd at https://www.wordimagesg.com/product-page/tigers-in-the-park-1 or if you are in Singapore try contacting Jane's Tours (https://janestours.sg/) or Changi Museum to see if they have copies in stock.
Digital copies are also available through https://www.wordimagesg.com/product-page/tigers-in-the-park and through other providers such as Scribd https://www.scribd.com/book/470540476/Tigers-in-The-Park
We are looking for a distributor in the UK and Australia. Can you help us ?
This virtual museum is linked with the book through QR codes creating the most detailed coverage of a WW2 archaeological site in South East Asia.
Please take a minute as we approach the anniversary to think about the men from both sides who found themselves thousand miles from home and never made it back.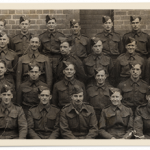 If you are looking for help or would like to share your research then join us on the Facebook page.
At https://www.facebook.com/AdamParkProject
If you want to keep bang up to date with all the gossip and news on the Adam Park site have a look at the Adam Park Facebook page
https://www.facebook.com/AdamParkProject/
As the years progress we inevitably have a turn over of tenants at Adam Park. Recently long standing residents have moved away and houses have remained unoccupied. However that doesn't mean they fall into disrepair the Singapore Land Authority regularly go into the properties to maintain them and get them ready for prospective new families. The Singapore Heritage Board are working in partenership with the SLA to ensure the heritage of the site is conserved as workmen come on site to maintain and prepare houses for new tenants. Our Chapel mural has been hidden behind a false wall at No.11 and the Calender Mural at No. 5 is protected by an acetate screen. We hope in the process of transfering ownership that these valuable heritage artworks are kept for viewing for future Singaporean visitors.
Private Jack Jennings is the last of the 'Fen Tigers' who fought at Adam Park and I'm glad to say he is still going strong. I was honoured to attend his 100th Birthday Party in Torquay on 27th / 28th April along with over 100 friends and family. Jack was as always in great form and ably supported by his partner Mary, he entertained the gathering with a spirited rendition on the 'mouthie' of many wartime tunes.
Jack's letter from the Queen was out on display and in return for her kind words Jack sent on a copy of his book ' Prisoner Without a Crime'. Just hope that inspires her to pick up a copy of Tigers in the Park !!!